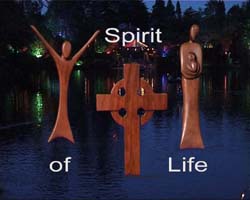 This is the WEB page of Northern Access Television's Christian Interview Program,
"Spirit of Life"
, on
Channel 31 - Melbourne Community Television
, Melbourne, Australia.
TIMESLOT - THURSDAY'S at 12:00pm
The program is now on air, on Channel 31 Melbourne, at 12:00pm every Thursday
You Tube Videos
Here is the recent episodes playlist from our
You Tube Channel
Click on the play symbol to start the most recent video, then click on the playlist symbol in the top right of the video to scroll through the rest of them.
---
Sponsorship Urgently Required:
In order to ensure the continued production of our program we need to find regular ongoing sponsors.

If you can help, or know any Christian Business people who may consider sponsoring our program for its value as a service to the Christian Community, please get in touch with us.


---
About our Program:
Spirit of Life started as a a multi-denominational Christian program but has developed into a Catholic orientated program, with occasional interviews of other Christians.
It's format gives the time for the in depth telling of the stories of the people interviewed.
The program was originally started by myself, David McLauchlan and Mirella Rich (nee Killingsworth). Due to the birth of her child in December 2008 Mirella had to stop being involved with the program after being Co-producer and the main interviewer since it started in 2004. Because both myself and Mirella were from a Catholic background the program has featured many Catholic guests, though over the years we also developed a lot of contacts across the wider Christian community.
Some of the guests the program has featured in the past have included, Sam Clear, from Youth Mission Team Australia, who walked around the world for Christian Unity, Mark Bateman from Chaplaincy Australia, Sr. Rachel Fleurant from the Missionaries of God's Love, Stewart Kohinga, a Christian musician, Jason Davies-Kildea, a Captain in the Salvation Army, Rev. Kevin Brown the Director of Studies of Kingsley Bible College and Alexandra Bekiaris a Christian Film Producer.
The program is currently presented by Mirella Rich and Geraldine Lee.
It is produced through the not for profit Community Television Incorporated Association, Northern Access Television, which is one of the member groups of the Melbourne Community Television Consortium, which owns and operates Melbourne C31.
---
Episodes:
For information about specific programs see our episodes page.
---
If you like our program, please consider emailing your friends who might be interested in seeing the program, particularly if they are overseas. Especially now that we have streaming video of the program available I would like to try to spread the word about our web site more widely.
Any feedback about the program and the web site is welcome as well, - Email me on david@davidmcl.id.au

For more information about Melbourne's Channel 31 you can go to the stations Web Site at http://www.c31.org.au

For information about our production group, Northern Access Television, go to http://www.nat.org.au


---
The programs producer is myself,
David McLauchlan - dmclauch@bigpond.net.au
For more information about me see my Personal Web Site: